Delicious Fall Recipes to Satisfy Your Sweet Tooth
Pumpkin Pie Pudding
I had to include a Pumpkin Pie recipe, of course. Who doesn't want pumpkin pie pudding on a fall day? This pudding is simple to make and perfect for all of those pumpkin lovers out there. 
Ingredients: 
1 can (15 ounces) pumpkin

1 can (12 ounces) evaporated milk

3/4 cup sugar

1/2 cup biscuit/baking mix

2 large eggs, beaten

2 tablespoons butter, melted

2-1/2 teaspoons pumpkin pie spice

2 teaspoons vanilla extract

Optional: Sweetened whipped cream or vanilla ice cream
Combine the first 8 ingredients. Transfer to a greased 3-qt. slow cooker(or crockpot).

Cook, covered, on low until a thermometer reads 160°, 6-7 hours. If desired, serve with whipped cream or ice cream.
No-Bake Butterscotch Pumpkin Fudge
These creamy squares of fudge will remind you of the classic fall dessert, pumpkin pie, but with a twist. The butterscotch brings a unique flavor to the dessert making it perfect for any fall party or simply dessert for your family.
Ingredients: 
1 teaspoon plus 3/4 cup butter or margarine, divided

3 cups sugar

1 can (5 ounces) evaporated milk

1/2 cup canned pumpkin

1 to 2 teaspoons pumpkin pie spice

1 package (11 ounces) butterscotch chips

1 jar (7 ounces) marshmallow creme

1 teaspoon vanilla extract

1 cup chopped almonds or pecans, toasted
Line a 13×9-in. pan with foil. Butter foil with 1 teaspoon butter; set aside. In a saucepan, combine the sugar, milk, pumpkin, pumpkin pie spice and remaining butter. Cook over medium heat until the candy thermometer reads 238° (soft-ball stage), stirring constantly.

Remove from the heat. Stir in the chips, marshmallow creme and vanilla until smooth. Stir in nuts. Pour into the prepared pan. Cool completely.

Using foil, lift fudge out of the pan. Discard foil; cut fudge into 1-in. squares. Store in an airtight container.
Frosted Pumpkin Cranberry Bars
These dessert bars are sure to give you a cozy fall feeling. With a delicious blend of pumpkin and cranberry, you are sure to come back for seconds! And total prep and bake time is only 35 mins! So these are perfect for when you are really hungry.
Ingredients: 
1-1/2 cups all-purpose flour

1-1/4 cups sugar

2 teaspoons baking powder

2 teaspoons ground cinnamon

1 teaspoon baking soda

1/2 teaspoon ground ginger

3 large eggs, room temperature

1 can (15 ounces) pumpkin

3/4 cup butter, melted

3/4 cup chopped dried cranberries
Brown Butter Frosting:
1/2 cup butter

4 cups confectioners' sugar

1 teaspoon vanilla extract

4 to 6 tablespoons whole milk

In a large bowl, combine the first six ingredients. In another bowl, whisk the eggs, pumpkin and butter; stir into dry ingredients until well combined. Stir in cranberries.
Spread into a greased 15x10x1-in. baking pan. Bake at 350° for 20-25 minutes or until a toothpick inserted in the center comes out clean. Cool on a wire rack.

For frosting, in a large heavy saucepan, cook butter over medium heat for 5-7 minutes or until golden brown. Pour into a large bowl; beat in the confectioners' sugar, vanilla and enough milk to achieve spreading consistency. Frost bars. If desired, sprinkle with finely chopped dried cranberries.
Leave a Comment
About the Writer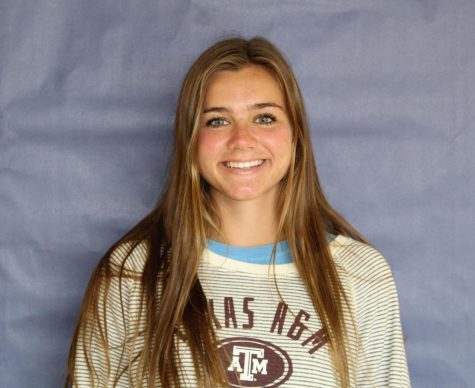 Libby Ogburn, Public Relations
Libby is a third-year journalist at The Tiger.

Favorite Quote: "Sometimes I start a sentence and I don't even know where it's going. I just hope I find it along the way."  The Office, Season 5

Favorite Food: Bagels

Fun Fact: Colorado is my favorite state.