Beta State 2023
Students from Cape Central competed at Missouri Beta State Convention in Branson. The students took home numerous awards including several state championships. Avery Criblez ran for Beta State Vice-President which entails campaigning all weekend and giving a speech in front of the whole convention. There were around 3000 people at the convention this year.
State Champs:
Jackie Zhang-Solo Dancing
Dulina Dias- Spelling Bee
Natalie Voshage- 11th grade Math
Tristen Stovall- 11th grade Biomedical
Zea Grabel- 9th grade French
Emily Velasquez Rico- 10th grade Spanish
Jathan Spain- 9th grade Math
Other Winners:
Audrey Ray- 2nd place in 10th grade Biomedical
Savannah Baker- 2nd place in 12th grade French
Caitlin Hill- 2nd place in 10th grade Language Arts
Lydia Cao- 2nd place in 11th grade Language Arts
Tim Kirby- 2nd place in 12th grade Social Studies
Caitlin Hill- 3rd place in Digital Art D1
Emily Marriott- 3rd place in Pottery D1
Cade Emmenderfer- 4th place in 12th grade Agriscience
Jessie Feng- 4th place in Painting D2
Anna Fuller- 5th place in Drawing D1
Sam Cairns- 5th place in 12th grade Math
San Srikant- 5th place in Poetry D1
Aaliyah Solis- 5th place in 11th grade Spanish
Caitlin Dilley- 5th place in 12th grade Spanish
Emily Marriott- 5th place in Speech D1
Collaboration Connection: Lydia Cao, Eliza Criblez, Sophie Haggerty, Brooke Seabaugh, Jacie Spooler, Vivian Nordin
Project Proposal: Katelyn Dowdy, Kolten Ritter, Addie Seabaugh, Garrett Snider
Lead Outside The Box: Sydney Britt, Adalia Brune, Ellis Brune, Reagan Snider
Leave a Comment
About the Writer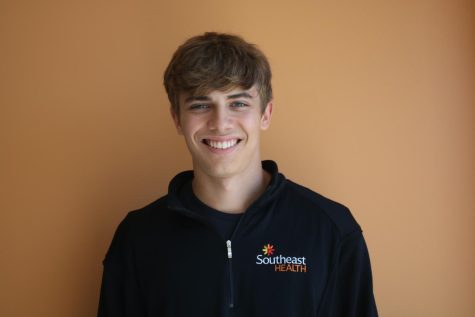 Cade Emmenderfer, Editor
Cade is a third-year journalist on The Tiger staff

Favorite Quote: "I like baseball"- Unkown

Favorite Food: Wings

Fun Fact: The sand from the beach turned my skin blue.