Food Review: Oreo Truffles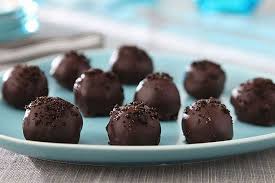 A sweet treat that can fit just about every setting. This is the Oreo Truffle. When it comes down to making these treats, what was needed to make these:
2 (8 ounce) packages BAKER'S Semi-Sweet Baking Chocolate, melted
When I went to make these treats, I had to make sure to find a way to crush the cookies without getting crumbs all over the place and to get the most crumbs as possible. For me, using a plastic bag worked the best. Another way to crush these up and get the most out of them is by using a bowl. Take plastic wrap and make sure to seal the bowl tight. Then take something heavy that one can throw inside of the bowl, but still be able to hold the handle. Then mix around until everything piece of a cookie is ground up.
Make sure to leave 9 cookies out of the group that goes in the bag or bowl to use for topping. Now, when I made it, I kept the centers in them. One can leave the centers out and use them for the outside coating to add an extra layer before they are dipped in chocolate, which is the step before last. Before that could be done though, one must mix the crushed up cookie bits and the cream cheese that has been softening to room temp. Once dipped in chocolate, put the Truffles on a wax sheet or an area in which the truffles can be separated from each other. Set in the fridge to harden for an hour. Then they are able to serve. With a hard outside shell and a soft interior, these make a perfect chocolate treat that has the sweet taste of Oreo's and can be made in bulk. When I did this project it was for Thanksgiving Dinner. Several of my family members found it rich on the inside with a good amount of sweetness, while others said it was a bit too sweet for their taste buds.
This recipe came from https://www.allrecipes.com/recipe/127491/easy-oreo-truffles/