The Rise of Thrift Shopping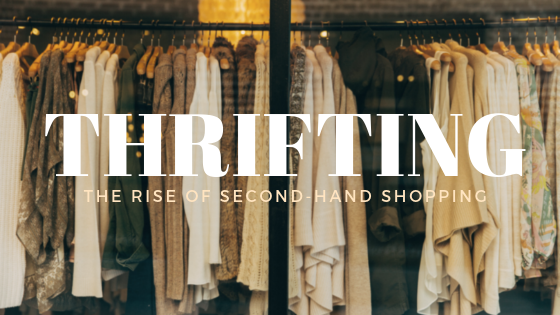 Hang on for a minute...we're trying to find some more stories you might like.
To many adults and to even high schoolers, thrift shopping is an adventure and is now comparable with asking someone to go and get coffee. "Want to hang out and look around some thrift stores?" has become a familiar activity. Numerous thrifters say that they love to buy second hand because of the 'thrill of the hunt.' With the hundreds of different clothes like shirts, pants, and dresses packed tightly into neat rows on silver racks, it's exciting knowing that something wonderful hides among them. Customers can't enjoy the same thrill of searching for something beautiful and unique with traditional mass-market shopping. One high schooler says, " I believe it has gotten more popular because everyone (including myself) seems to be more interested in making things more "them" and their style. So, going to Goodwill or Teen Challenge and finding a shirt, that not many people have, and then cutting it, tying it etc. makes it your own and no one has anything like it. We are all just a lot more creative and thrifting helps with that."
Thrifting has grown in popularity by 7 percent a year, according to the National Association of Retail and Thrift stores. This growth is caused by countless reasons having to do with today's economy and our communities. "I feel like with the 90s coming back into style a year or two ago has helped second-hand stores become fairly popular again." says a teenager from a local high school. The cycling of styles from previous eras has driven shoppers to second-hand stores to buy vintage clothes, rather than a traditional store where one can buy something new that is made to look vintage. Our society is growing more aware of the need to recycle items like clothes and are more eco-friendly than ever and with the increasing population, we feel a need for a sense of individuality that thrift shops give us.
The rising growth in the popularity of buying second hand could be because of cell phone use. The internet has made every aspect of life easier,  including buying clothes. The most popular app among 20 teenagers surveyed was Poshmark. Poshmark is an app where you can buy and sell clothes to other users. Conveniently, Goodwill even offers a website where you can buy clothes.
The clothing industry hasn't always been this way. Evidently, buying second-hand clothes has become more popular and a lot of shoppers are even proud of it by showing off their find to their friends and online. "I would feel embarrassed going to a thrift shop when I was in school. My little sister would cry if we went to one," says Shamira Ulrich, age 30. Ulrich graduated high school in 2004 and wasn't comfortable shopping at a thrift store until her late teens. "Until I got into college and didn't have much money,  I realized that it wasn't a big deal," Ulrich said. In the early 2000s, it would be shameful to not be able to afford the latest brands and going thrift stores showed that one could not afford to go to brand named stores. Students would poke fun at other students who didn't wear the latest styles like Converse, FUBU, Hollister, and other name brands. Now, in 2018, teenagers are scattered throughout thrift stores like stars in the sky. "I think thrift shopping is cool and trendy now." says one student, age 16. Brand names just aren't as important as they used to be; now it's all about personal style. A teenager reports that "I don't care if it's $1 or $100, if I like it, then I like it." Many teenagers seem to think this way now and don't care if other kids don't fit in.