Why Watch a Show When You Can Listen to One?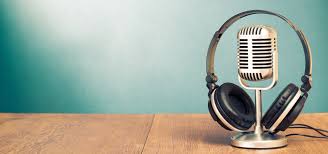 It looks like we all are going to be in our homes for the rest of the school year. Some of us are happy about this extended break while others are upset about losing the end of their school year. No matter how you are feeling right now, this is our situation, we might as well make the best of it. Finding ways to entertain ourselves during this quarantine has been the largest discussion point among the masses, besides talk of the virus itself. Movie recommendations, binge-able TV recommendations, and long-lasting video game recommendations flood these conversations, and that's all well and good, but there is another form of entertainment being glanced over. No, I'm not talking about reading, though that is a great medium of entertainment, I have nothing to recommend. I'm talking about podcasts. Many of you probably don't listen to podcasts, some of you probably have a handful in your weekly rotation, but no matter what level of listener you are, it's never bad to check out a few more.
If you are looking for answers in these crazy times, you might want to check out the #1 advice show for the modern era, "My Brother, My Brother, and Me." This comedy advice podcast hosted by the McElroy brothers Justin, Travis, and Griffin answers the world's most pressing questions found on Yahoo Answers. Questions like "Smoke coming from my belly button?" and "Where are birds ears at?" The brothers also answer fan submitted conundrums which may just show a parallel to an issue troubling your life. MBMBaM is full of laughs, full of questions, and full of great (pronounced terrible) advice. Check out "My Brother, My Brother, and Me" on Spotify or wherever you get podcasts and learn the answers to life.
Has quarantining yourself in your home made you even hungrier for the fast foods of the world? Are you wishing you could check out the newest fast food trends without having to spend the money on the food yourself? Well now you can with the "Face Jam" Podcast. This food review podcast hosted by Michael Jones, Jordan Cwierz, and Eric Baudour open up conversations about the biggest trends in fast food today. Episodes cover items such as "Applebee's 25 Cent Wings," "Jack in the Box's Tiny Tacos," and "Pizza Hut's Big Dipper and Mozzarella Popper Pizzas." Don't listen to this podcast on an empty stomach or you'll surely have a rumbling tummy by the end of an episode.
Everybody's recommending movies right now, it seems like everyone has an opinion on what to watch to pass the time. Instead, how about a podcast that talks about movies. The "Filmhaus Podcast" is all about taking a look at everybody;s favorite form of entertainment; movies. Hosted by the members of online comedy group Funhaus, "Filmhaus" will keep you enthralled and laughing, even if you haven't seen the movie they're talking about. Check out the podcast and hear their hot takes on movies such as "Joker," "A Quiet Place," and "Son of the Mask."
Maybe you are a big fan of talk show TV. If you are, maybe you should take a look at my favorite late night host's podcast "Conan O'Brien Needs a Friend." The titular Conan O'Brien hosts this interview podcast where he sits down and has a chat with some of the most beloved celebrities of the modern age. Are you a fan of Will Ferrell, Adam Sandler, Jeff Goldblum, Michelle Obama, Ben Stiller, Bill Hader, Mila Kunis, Paul Rudd, Jack Black, Jesse Eisenberg, or Will Arnett? If you find yourself answering yes to any of these options, then you should check out this podcast since all of them have been a guest on an episode of Conan's podcast. If you said no to all of these options, don't fret, this is only a small percentage of all of the guests who have appeared on "Conan O'Brien Needs a Friend." 
I hope you folks take my recommendations into consideration and perhaps check out one of my provided options. If you do, let me know you enjoyed it. I hope everybody is keeping themselves busy and entertained. I also hope everyone is staying home and staying well!