Divorced, Beheaded, Died, Divorced, Beheaded, Survived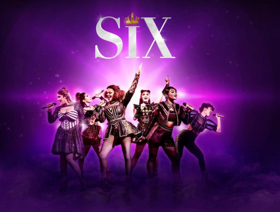 Hang on for a minute...we're trying to find some more stories you might like.
Hip Hop and upbeat musicals have become all the rage off and on Broadway. The public has been able to enjoy shows such as Bring It On, In The Heights, and the rap musical Hamilton. A new pop musical has been written a couple of years back and will blow your socks off.
Like Hamilton, Six is a hip hop musical focusing on something in history. In this case, the musical focuses on the glory and the disgraces of King Henry VIII's six wives, Catherine of Aragon, Anne Boleyn, Jane Seymour, Anne of Cleves, Catherine Howard, and Catherine Parr.
Among the show's nine songs, each wife gets their own song, which tells their story of what happened to them. The lyrics allow the audience to learn things about the wives before, during, and after their time with King Henry VIII that has never been emphasized in history. For example, Henry VIII's sixth and final wife, Catherine Parr, had been married twice before meeting the king and she was a writer. You may think you know the history, but you are dead wrong, so don't lose your head.
Six the Musical was published on December 18th, 2017 and was written by Toby Marlow and Lucy Moss while they were in college. The show has been performed mainly in London at the Arts Theatre. The show has captured the attention of the UK and has won four awards and has been nominated for six others in its short existence.
Don't miss out on the pop queens that are history's leading ladies. There is no way you can overlook Six.