The Gas Station Bathrooms of Cape Girardeau
As I walked into Rhodes on William St., I immediately notice fingerprint smudges on the women's bathroom door. Along with that, there was the most horrendous smell there basically was a green fog trapped in the bathroom.  The floors were decent as they only really needed a quick sweep. At least there was toilet paper, paper towels, and even soap. But the light switch honestly disgusting, all around it was a brownish cover of dirt. What bothered me the most about this bathroom was the crooked mirror. I definitely wouldn't recommend using this bathroom. One Star.
Next up was Hucks on South Kingshighway; I really liked the color of the bathroom door and didn't look grimy. The trash probably needed to be taken out soon, but it wasn't overflowing and possibly needed a quick clean on the mirror. There was soap and a hand dryer, and it had a little bonus Scentsy on the toilet to keep it smelling fresh. This bathroom is a good one to go to. Three Stars.
The third gas station was Kidds on Broadway overall pretty clean had a kind of futuristic sink with automatic soap dispensers and automatic faucet. Although this bathroom is unisex, so it definitely needs to be cleaned often. Also, I liked how the door on the lock tells people to wait outside the bathroom if someone is using it or not. In conclusion, the Kidds bathroom I would suggest. Four Stars!
The next bathroom is Mercato on South Mount Auburn walking in it is super nice and has two private stalls in the bathroom and a huge mirror. It didn't have any dirty grime built up, so it seemed pretty clean. Although this bathroom didn't have paper towels or hand soap, which is kind of gross considering the pandemic. I would recommend Mercato, but hopefully next time they will have soap and paper towels. Three Stars because of the lack of soap.
The fifth gas station bathroom is the Rhodes on South Kingshighway next to Tractor Supply it's kind of hidden. This was a one stall women's bathroom honestly had a trucker kind of smell felt like there was dirt clouding in the corners of the floor. It did have a clean trash can, soap, and paper towels so that's a plus but I would recommend the workers to sweep too. But overall wasn't a bad option this bathroom definitely is tolerable. Two Stars.
As I walked into the sixth bathroom, Shell on William Street, it was a one stall room bathroom that was pretty huge. It had a child changing table and an empty trash can, which is good. It also included soap and paper towels as well and as a little bonus, smell good spray. I don't understand what the problem is with people not throwing away their trash in the trash can, it just piles up on the floors. But otherwise, I definitely recommend Shell. Five Stars!
The last bathroom was Phillips 66 on Independence Street across from the Cape Junior High. This bathroom was pretty clean it had no piles of toilet paper on the floor and had soap and a little hand dryer. Kind of seemed like this bathroom never gets used; the lights were off when I went in. I recommend this bathroom as well as it's clean and not sketchy. Four Stars!
Leave a Comment
About the Writer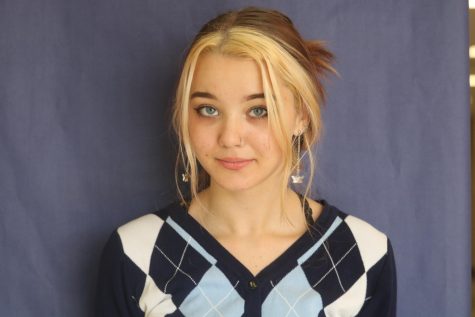 Halle Andrews, Photography Editor
Halle is a third-year member of The Tiger staff.

Favorite Quote-"I'm not really sure which parts of myself are real and which parts are things I've gotten from books." -Beatrice Sparks, Go Ask Alice

Favorite Food- Tikka Masala

Fun fact- Her favorite word is frolicking. Like frolicking in a field of flowers.

Halle has an idea of what her future is going to look like. Her best friend, Katrina, doesn't. Something Halle says a lot is "bruh."