A Breakdown of the Kyle Rittenhouse Case
August 25, 2020 –Kyle Rittenhouse, 17, shot three men, killing two with a semi-automatic AR. Rittenhouse of Antioch, Illinois went to Kenosha Wisconsin during the protests that turned into riots of the Jacob Blake killing, when civilians were destroying property and looting stores.
Rittenhouse claimed to have traveled to Kenosha to protect the city, and render medical aid.
Rittenhouse faced a total of seven charges at the beginning of the trial, but throughout the trial the judge dismissed two charges.
Rittenhouse charges:
First-degree Reckless Homicide, use of a dangerous weapon (up to 60 years)
First-degree Recklessly Endangering Safety, use of a dangerous weapon (12 ½ years)
First-degree Intentional Homicide, use of a dangerous weapon (Mandatory Life Sentence)
Attempted First-degree Intentional Homicide, use of a dangerous weapon (Max 60 years)
First-degree Recklessly Endangering Safety, use of a dangerous weapon (12 ½ years)
Possession of a Dangerous Weapon by a Person Under 18 (Max 9 months)
Failure to comply with an Emergency Order From the State or Local Government ($200 fine)
Judge Bruce Schroeder dropped the Failure to comply with an Emergency Order From the State or Local Government charge that if convicted would have resulted in a $200 fine, but more importantly dropped the Possession of a Dangerous Weapon by a Person Under 18 charge that could have resulted to up to nine months in prison if convicted.
The Possession of a Dangerous Weapon by a Person Under 18 charge against Rittenhouse was the prosecution's 'slam dunk' charge. Rittenhouse was surely going to be convicted on the charge because it is virtually impossible to dispute the fact that he was not 18 at the time of the shooting.
The charge was dropped because it conflicted with another Wisconsin law that related to weapons and hunting that only applied to juveniles under the age of 16.
Kyle Rittenhouse claims that every person he shot the night of August 25 was a direct result of him defending himself.
The first person that was shot, Joseph Rosenbaum, was a 36 year old white male, native to Kenosha, Wisconsin.
Prosecutors and Rittnhouse's defense team both showed multiple videos of the fatal shooting of Joseph Rosenbaum.
In the videos, it was made clear that Rosenbaum was chasing the defendant, Rittenhouse. It was also clear that Rosenbaum was only four feet from Rittenhouse when Rittenhouse felt that his life was in danger, and he pulled the trigger.
Kyle Rittenhouse and the defense claim that Joseph Rosenbaum made an attempt to disarm Rittenhouse, but due to Rittenhouse's quick-thinking, he opened fire upon Rosenbaum, letting out four bullets that all struck Rosenbaum.
Prosecutors claimed that Rittenhouse made a conscientious effort to fire more than one shot at Rosenbaum, but it was made clear that Ritenhouse fired all four shots in approximately 0.3 seconds, making it virtually impossible to control the amount of ammunition that left the weapon.
Dr. Doug Kelley performed the autopsy on the body of Joseph Rosenbaum and was called to the stand to testify. Dr. Kelley stated that Rosenbaum did indeed have the soot of the rifle on his hand, indicating that when Rittenhouse pulled the trigger, Rosenbaum was making an attempt to get his hands on Rittenhouse's weapon.
After the shooting of Joseph Rosenbaum, Rittenhouse attempted to flee angry protesters, while attempting to escape to a safe location. Whilst he was being chased, Rittenhouse tripped on the pavement and an unidentified man jumped in the air, attempting to stomp on Rittenhouse in the face.
Rittenhouse opened fire upon the unidentified man, but was unable to connect any shots.
While Rittenhouse was still on the ground, Anthony Huber, a 26-year old white male, had a skateboard in hand, and attempted to swing the skateboard at Rittenhouse.
According to a criminal complaint, "Huber reached for the suspect's gun with his hand while holding the skateboard in the other. As Huber tried to grab the gun, the suspect pointed it at his body and fired one round. Huber was seen staggering away and then fell to the ground. He died from his gunshot wound."
The third man Kyle Rittenhouse shot was Gaige Grosskreutz, a 26-year old white male. Grosskreutz of West Allis, Wisconsin, was attending the protest as a paramedic. Grosskreutz was shot in the arm by Rittenhouse, completely tearing his bicep.
Rittenhouse was not the only person armed in his altercation with Grosskreutz. Grosskreutz was armed with a pistol that he admitted was illegal for him to carry because his concealed carry permit had expired.
Grosskreutz admitted to drawing his pistol, and Rittenhouse's defense team alleged that Grosskreutz chased Rittenhouse with his pistol down the street. Grosskreutz also admitted to pointing his firearm at Rittenhouse, but he had no intention of firing at the then 17-year old.
Grosskreutz described Rittenhouse as an "active shooter," However, one of Rittenhouse's attorneys asked Grosskreutz, "It wasn't until you pointed your gun at him, advanced, on him…that he fired, right?"
"Correct", Grosskreutz responded.
While on the stand, Grosskreutz admitted that once he saw Rittenhouse shoot a man, just feet away from him, he took action. Grosskreutz denied chasing Rittenhouse down the street with his pistol, but he did admit to following Rittenhouse with his pistol but did not want it to be labeled as "chasing".
Chirafisi, another Rittenhouse defense attorney, stated that Grosskreutz told multiple police officers that he dropped his weapon prior to Kyle Rittenhouse opening fire, but he contradicted himself in court by acknowledging that he was still in possession of the firearm when he was struck by Rittenhouse's bullet.
Both the prosecution and defense team concluded with their closing arguments. The defense hammered home that Rittenhouse acted in self-defense, while the prosecution claimed that Rittenhouse was just a wannabe police officer, acting as a vigilante the night of the protests.
The jury began their deliberations on November 16, and have yet to conclude.
Leave a Comment
About the Writer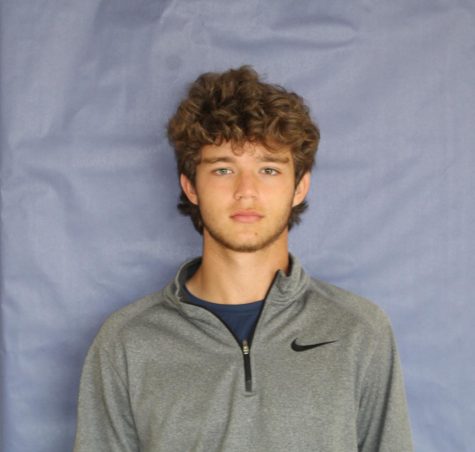 Tad Couch, Editor
Tad is a third-year journalism student on The Tiger Staff, along with being a first-year editor.

Favorite Quote: "That's what she said" -Michael Scott (The Office)

Favorite Food: Pineapple Fried Rice with Shrimp

Fun fact: I have Heterochromia.