The Man I Never Knew
Death, it's a natural part of life. Whether it's from old age, illness, or a drastic accident it's going to happen. It's something everyone will experience in their family, but what about the ones someone doesn't experience. I'm talking about the person in one's life that they feel like they have always known, without actually knowing them. Imagine a person that has left such a legacy in one's family and the community they are remembered years after they are gone. Everyone should strive to leave a legacy on their family and community. Each person or family has an individual like this. For me, that person would be my Grandpa Gary.
Gary Emmenderfer is a man I've heard about my whole life but never knew. He was a high school football coach, a teacher, a husband, and a father. In 1994, 10 years before I was born, Gary died from a sudden heart attack. Even with the heartbreak my family endured, they moved forward. Leaving behind a wife, four children, and one grandchild (first of seven grandchildren) they remembered him through the legacy he left behind.
Not ever knowing the man behind all the stories was hard for me growing up. I always wanted to meet him. It felt weird to know that strangers that would walk up to me, after figuring out my last name, knew more about my grandfather than what I knew about him. Before I can even remember I had past players of his walk up to me and say "You know, your grandpa was my favorite coach when I played football" or "Your grandpa was one of the best coaches I have ever had". Believe it or not, it happened a lot. The feeling of knowing I missed out on knowing such a great man is hard, but I find comfort in the fact I'm in the same bloodline as a man who left such an impact on his family, friends, students, and players.
Gary was strict, but a fair father. He expected his family to be good people and hold their Christian values to heart. Even though he spent many late nights at the field, his love for his family is something that kept him going. Even when his love for them was tested, like when my dad and uncle lit the front yard on fire after shooting off a firework, he still showed up for his family with all the love he could share. 
Gary is a man we all strive to be; a decent, caring, and loving man who leaves a legacy on his family after he passes. A man who has a job he loves and a beautiful wife and kids to come home to each night. That's the dream of so many and it's a dream that is also taken for granted. If there's one thing I've learned from his deaths it's that I will never take for granted the time I get with my family because one never knows how suddenly it can be taken away. 
Many people may wonder how I know so much about a man I never knew. Well, I know so much about Gary after hearing about him my whole life. From the crazy stories about my dad's childhood and those random strangers who knew my grandpa. I got a whole idea of who Gary was. I also see how much my family is still affected by his death years later. Seeing all this makes me miss him too even though I never knew him. Such a legacy a man has that even me, a grandchild who never knew him, can tell you about how great of a man he was is certainly remarkable. The fact I got to know and love my grandpa without actually ever meeting him truly shows the impact people can have on each other. Maybe this is a lesson for all of us to truly treat each other with respect, and leave a positive mark on the world because one never knows how they will be remembered. And we should all strive to leave such a legacy like Gary did, that after we are gone people who never met us can feel like they knew us their whole life. So I challenge the people reading this article to strive to leave a positive mark in this world. Treat every day as if it's the last, and ask yourself the question what would my impact in this world be after I leave it?
Leave a Comment
About the Writer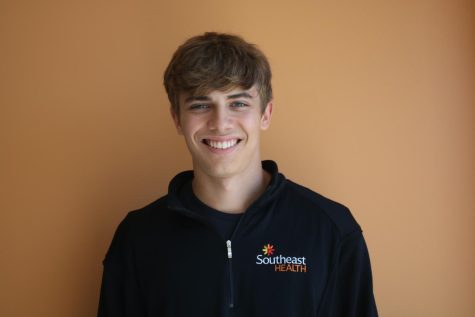 Cade Emmenderfer, Editor
Cade is a third-year journalist on The Tiger staff

Favorite Quote: "I like baseball"- Unkown

Favorite Food: Wings

Fun Fact: The sand from the beach turned my skin blue.