The Future of Theatrical Releases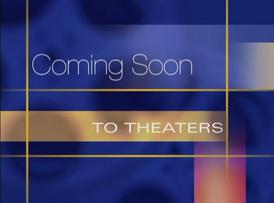 The last feature film to be released here in Cape Girardeau was Disney/Pixar's Onward… on March 6th! Now obviously there's an understandable reason for no new movies coming to theaters, but this fact doesn't make me miss them any less. We have had a few new movies be released directly to VOD (video on demand), but none of the highly anticipated films have been released, they've all been rescheduled. The new movies that have been sent straight to VOD are The Way Back, Bloodshot, The Hunt, I Still Believe, and Trolls: World Tour. More movies will be skipping theaters and arriving on streaming. On May 15, SCOOB!, a new take on the origins of a pup named Scooby-Doo, will be available for rent and purchase on services like Amazon Prime Video. On May 22, The Lovebirds, an action-comedy starring Kumail Nanjiani and Issa Rae, will be available on Netflix. On June 12, Artemis Fowl, Disney's adaptation of the beloved book series, will be available on Disney+. Many more films will inevitably bite the bullet and be released similarly on streaming services rather than risking a  theatrical release.
Now that we've gotten streaming out of the way. Let's look at some of the future of theatrical releases for the next three years: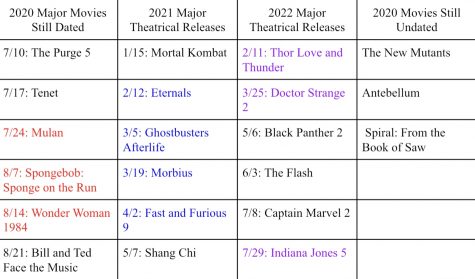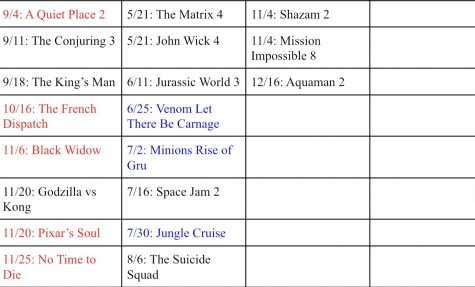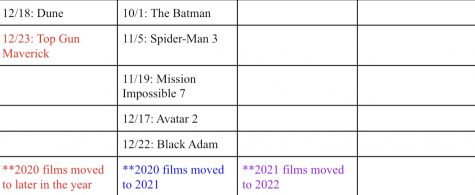 Like I said this is some, not all, of the next three years' releases. Expects some movies to be missing from this chart and for information to change in the future. Not only are we living in uncertain times, but movies will be coming out at uncertain times. I hope everyone/anyone finds this useful and I wish everyone safety and good health in the coming months. Remember to stay safe and wash your hands!