The Season Never Ends
Hang on for a minute...we're trying to find some more stories you might like.
Several months filled with agonizing heat and profuse amounts of sweat were finally paid o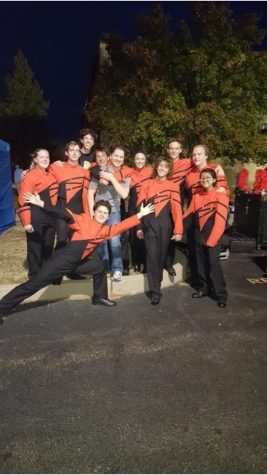 ff at the end of a stellar competition performance. Even though it's in the off season, the true season never actually ends.
Every year from June to October, the Marching Tigers train and practice their show to prepare for half-time performances at football games and their own events and competitions.
At the beginning of June, the Marching Tigers hold their fundamentals camp. The camp consists of learning how to march and other basics for Freshman and new marchers. "Coming together in June, and helping the freshman learn and meeting new people are some the best things about Marching Band," said Michael Alexander. Another great thing about the marching season is "Watching the show finally come together after months of hard work and taking it to a level that hasn't been reached yet", said Director Billy Keys.
Through all the drill training and all of the after-school rehearsals that seem to last forever, there is a light at the end of the tunnel; getting a top placement at a competition. "Winning first place at a competition feels like gold because you sit on the bus on the way home and feel good because you are a part of the best marching band", said Alexander.  Some competitions have preliminary rounds and finals. If a band doesn't place high enough to make finals they have to go home.
Not only does the band perform in competitions, at football games, and in parades, but every few years or so the Band travels somewhere. During Christmas break this past year, the Marching Tigers traveled to Universal Studios in Orlando, Florida. They performed in the Universal Christmas Parade and got to be apart of the Sound Design Studio. Sound Design is where the music and voice recording for animated movies is created. The band performed the music from Despicable Me and created their own rendition of a few of the movie scenes. "Being in a vacation resort with all my friends made the trip a lot of fun," said Alexander. There was a city walk filled with restaurants and shops that they could visit and live performances that they could watch as well.
The season doesn't ever actually stop. During the off-season is where a large amount of recruitment takes place. The hardest part is persuading the eighth-grade band students to become a part of Marching Band. A big reason for this is due to the conflict with sports' practices such as softball, soccer, volleyball, football, and cross country. "We have to show them videos of past performances, pictures, and tell them what the Marching Band is all about and explain to them that they can be apart of something much bigger than they are," Said Billy Keys. It takes a true musical athlete to be a part of the Marching Tigers.