Let's Get Down to Business
Students to sell 3-D printed objects.
Students talk to each other in hushed whispers, while they brainstorm products to make. The mechanical sounds coming from the printer echo down the high school hallways. Whitney Choate's Career Readiness class is getting excited during their spring semester because they are ready to start making and selling their 3D printed products.
This is a project at Central that has never been done before and began as a casual idea by Choate. "Last year there was a discussion about increasing the different courses, and what we offered our students," said Choate. This course offers  "… focus on those students that may not have aspirations to go to college, so we just want to prepare them."
Choate decided to test this project so all the resources she is using are district-owned but, "I'm hoping to get a 3D printer funded for my classroom to have all year round as well."
The long-term goal is to print products to sell, not only to make some money for the school but, more importantly, give the students a taste of what some of their future careers may look like.
"A Fortnite key chain, a flower with my last name as the stem, and a pair of shoes…," are a few examples of the things that Triplett creates through this project and class. The project costs no money for the students to partake in, they only spend time in class working, and they need no prior experience in 3D printing to take part in the creating and selling process.
"…they're focusing on what they are already good at," says Choate, "If that's not their forte, (creating the objects) then I'm pushing them towards social media, or they're going to work on packaging or just some other aspect, so they can still get better." Consequently, all students have a job and are getting the experience in being one of the people who the class needs to make the business work.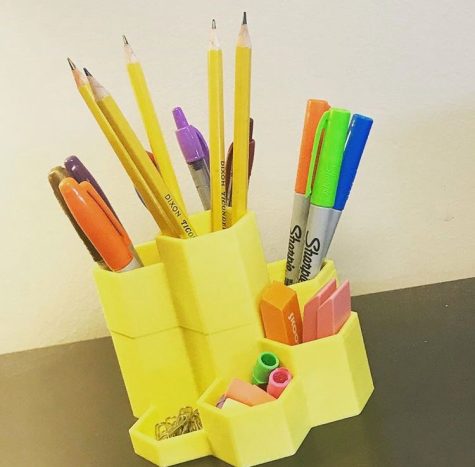 Upon being asked if Triplett would recommend this project to other students in years to come, he replied with, "Yes, but only if you have a creative mind… I have creative things that go through my mind every day as a result." You can check out more on the 3D Tiger Print Shop on the shop's Instagram @3Dtigerprintshop.