Pre-Season Tennis
Tennis at Cape Central High School has become an increasingly popular sport with lots of new players and coaches added to the team, with a very bright future ahead of them.  This year over 20 athletes are on the team and growing.  Following last year's win at districts during her second year at Cape Central High school Head Coach Boeschen says that "It's a whole new year, a whole new season and we're coming back with a blank slate."  Coach Boeschen wants to put everything behind her and start everyone fresh with a great mindset. 
 Coach Hamlett, a first-year coach at Cape Central High School is a new addition to the team, and "Even though I'm learning a whole new game, I want to help as much as I can."   He plans on helping the team come together and really work as one big unit and surpass their goals and become better and better every year. 
 Coach Boeschen also attributes her team's success to her overall work as a member of the team.  "As a coach", she says "We need to work more on our communication skills between not only the players but also the coaches."   These coaches are relentless at what they do and getting the team where they need to be not only mentally but also physically is how they do it.  
With the practices that sometimes last hours long, campus laps, many other forms of circuits such as conditioning, and also constant drills to help instill core techniques into the players to be ready during a game situation.  These are just some of the things that Coach Boeschen and Hamlett believe help contribute to the overall achievements of the team as a whole.  Coach Boeschen states, "Making the connections show that it's not a sport but a community and relates with them throughout their everyday lives and help inspire them to be the best person that they can be."    Adding on to this Coach Boeschen believes that tennis isn't just a sport it is also a bonding experience between the players and coaches that they will remember for the rest of their lives and will hopefully someday look back at and smile upon.  
The coaches are what really create and run a great team whether it's through advice and training or even for support and encouragement, that's one of the reasons the tennis team is so successful, because of coaches that work tirelessly every day to ensure that everyone is getting better.  Following up with some of the new team athletes Freshman Spencer Engelhardt says "It's pretty fun, It's a good sport to get into your freshman year."  Following up with, "I am looking forward to competing with my peers."  With all of the new talents and work ethic coming from the tennis team this year coming off of a district win last year Cape central's tennis team is on track to keep growing and evolving into a bigger and better team every year.
Leave a Comment
About the Writer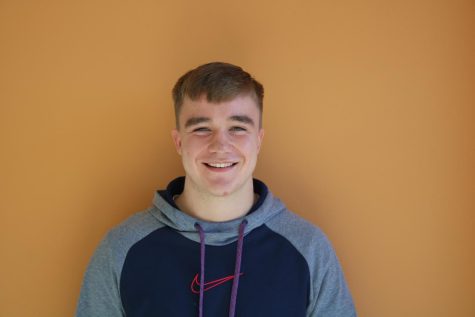 Pierce Bisher, Journalist
Pierce is a first-year journalist on The Tiger staff

Favorite Quote: "My weakness has always been food and men, in that order"- Dolly Parton

Favorite Food: Dirty Fries

Fun Fact: I once faked passing out from heatstroke.