Red (Taylor's Version)
The album Red (Taylor's Version) was released on November 12, 2021. Taylor Swift took action to regain financial and legal control of her previous compositions after her former record label would not sell them to her. Within hours of Red (Taylor's Version) release, it was at the top of the U.S iTunes chart. This includes a most well-liked song, "All Too Well," 10 minutes long version.
Tommy Marriott, a sophomore at Cape Central High, describes the anticipation of this album's release and why it was important to her. Marriott states, "I began counting down the days to Red (Taylor's Version) from the day it was proclaimed. I was so ecstatic I nearly fell off my couch. It gave me something to look forward to in a very hard time."
The original 2012 album has a much-admired playlist that is adored by fans who feel the lyrics apply to them. Red is also the album that helped jump-start Swift's pop career and is what makes this album so prominent in the pop music scene. Even though Red (Taylor's Version) was all the same songs, there were slight alterations that made fans obsessed with her new creation.
When asked about the comparison between the new and old albums, Lindsey Caldwell, a junior at Cape Central High School, tells us in her own words, the contrasting aspects.
Caldwell states, "I think the new version of Red sounds a lot more genuine. Taylor wrote the lyrics with an idea of how she wanted the song to sound, but the producers didn't let it happen how she imagined. So now, with Taylor's version, it gets to sound how it meant and it makes it mean a lot more."
Marriott describes why this album is important for Swift. Marriott states, "Her songs were taken away from her and she found a way to bounce back and reclaim what once was hers."
Red (Taylor's Version) includes the original 16 songs plus 14 more songs, the extra songs came from Swift's "vault," Fans definitely are having fun listening to Red (Taylor's Version) and Fearless (Taylor's Version) giving them a new option to scream the lyrics and get lost in the music.
Abby Ford, a junior at Cape Central, talks about the way Red (Taylor's Version) impacts her life. Ford states, "I relate to the new album because there's so many songs and the variety that can go with almost any mood you're in. There's a song that can summarize how you're feeling in Swift's new album."
Leave a Comment
About the Writer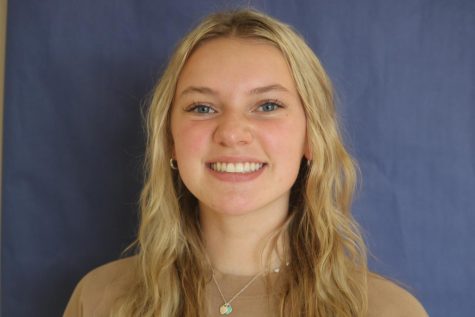 Chloe Merkley, Journalist
Chloe Merkley is a first-year journalist on The Tiger Staff.

Favorite Quote: "Whatever happens, it happens for a reason" -Aristotle

Favorite Food: Sushi

Fun Fact: She enjoys speaking in a British accent and taking her dog everywhere she goes.

Chloe also believes sunburn gets rid of acne.